Produced whilst employed at IAG Research Centre, this video came out of the Dog Safety Harness media release and a testing relationship between Purina and Research Centre. After NRMA Insurance endorsed the Purina Petlife Roadie it made sense for Purina to enlist the Audio Visual team to produce their promotional video.
With a collaborative scripting process between Purina and Research Centre, my colleague and I went about sourcing and scheduling shooting with willing dog owners. The dogs where quite adorable and in general easy to work with. There was one exception, the pug! A manic little fur ball, he managed to get himself tangled in the harness, sending a cloud of fur through my colleagues car filling the remaining shots with a haze of hair.
This video is one of my favourites that I have been involved with whilst at Research Centre. A validating part of that may have something to do with the incredible view count that this video has, 436,479 as of June 2015. I was even YouTubing "funny cat videos" one day and this came up as an advert. How exciting!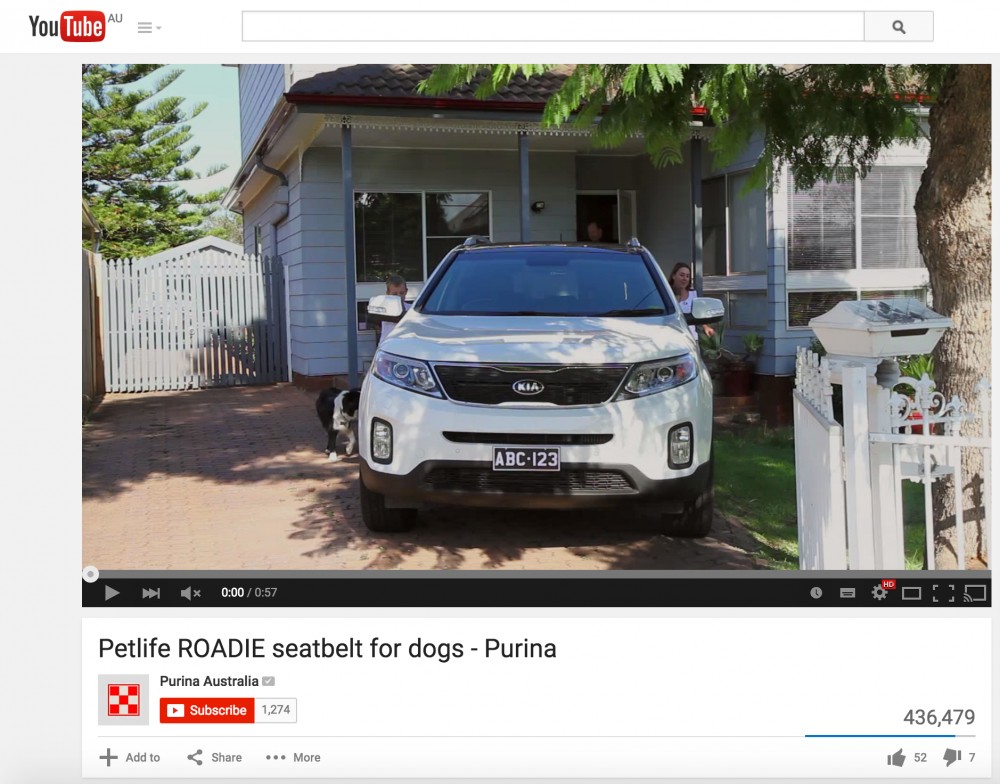 My colleague took on the editing of this video and in the end three versions were produced, one for Purina to use internally, a one min version and a 1.5 min version, the shorter one is the one with 400,00+ views. We were told that following the media release and the launch of this video campaign, Purina Petlife Roadie was selling out across Australia. A great result, a great production to be apart of and one everyone should be proud of.
Tech Specs:
Shot on Canon DSLR with a combination of natural light and LED light panels.
High speed footage shot with the assistance of Mac Image on the NAC Memrecam HX-6.
Edited in Adobe Premiere Pro with graphics, animations and rotoscoping produced in After Effects.
Voice over by Joel Phillips.
Music sourced from AudioMicro.