Working with the delightful and talented team at Young Wisdom, I was tasked with developing and animating branding kit for use in an online video campaign for Artesian Investment Manager.

With no style guide, branding and inspiration was pulled entirely from the Artesian website, and so the pinstripe titles were born. As part of the package 2 full frame title screens were developed, a social call to action, a lower third and then a suite of animated logos for use across various scenarios, including a partner logo lock up. Given the brand enjoys a range of colours in their pallet the kit also enjoyed a range of colours and the built in option for the editor to change the colours appropriately, as the brand developed, and even opt for a transparent background for pairing with footage, as was ultimately chosen for the below examples.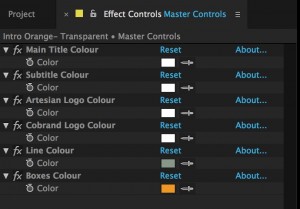 This is certainly not the first time I have used After Effects to develop a brand kit for an editor to use, but this is the first time I went into using expressions to tie the assets to controllers to allow After Effects novices to easily make text, size and colour, changes after project handover.
The next area of focus  in the branding kit realm is setting up edit options in Premiere when the files are dynamically linked. I have been dying to get into it and now seems like a good time.