Produced whilst employed at IAG Research Centre.
Produced whilst employed at IAG Research Centre, this video is aimed at businesses and highlights the mutual benefit of a Safe Vehicle Policy for businesses, their employees, and the wider community. This is a policy that ensures the fleet vehicles that a company purchases are of the best possible ANCAP safety rating. Speaking to directly to businesses, we wanted to frame the video in a way to show that a Safe Vehicle Policy makes business, financial, and emotional sense.
This video involved several interview shoots, including two in Melbourne that were outsourced to a local team. My roles on this project included collaborating in the script writing, shooting a few of the interviews, shooting montage footage, and the motion graphics. The motion graphics allowed me to play with Particular, the After Effects particle-based plugin from Red Giant.
My colleague also collaborated in script writing, shot a few of the interviews and took on the edit. This was a very low budget project so we resorted to sourcing clips from previous projects and shooting around the office. We rounded up people in the office for various shots, including shots of ourselves and even my mum and brother. We also used a member of the client's team for the voice over, recording it ourselves in our mini sound booth.
In order to get the message out, our client launched the video with a press release. The story was picked up by two industry media outlets, Insurance Business Online and Insurance News.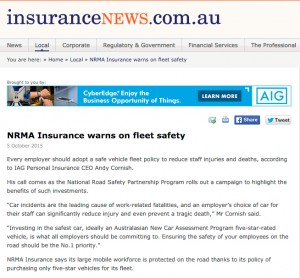 For more information on Safe Fleet policies contact the National Road Safety Partnership Program.
Tech Specs:
Shot on Canon C100 and DSLRs, using a combo of natural lighting and LED light panels.
Edited in Adobe Premiere Pro with graphics and animation completed in Adobe Illustrator and After Effects.
Music sourced from Premium Beats.
Produced whilst employed at IAG Research Centre, this series was a rebrand of previous advocacy videos produced for other IAG brands and refreshed for New Zealand audiences. With a bright and cute look, most of the work surrounded adapting the animations and motion graphics to fit the look and feel of AMI. Swapping out the clean science look of RACV or the friendly, trendy NRMA Insurance for bouncing bright yellow speech bubbles.
As there was a tight deadline for this project and some scripting to accompany, reflecting law differences between Australian and NZ, so we spread out the rebrands across myself, my colleague and a contractor that assisted with projects from time-to-time. We set out how we were approaching the branding first, in order to maintain consistency across the series.